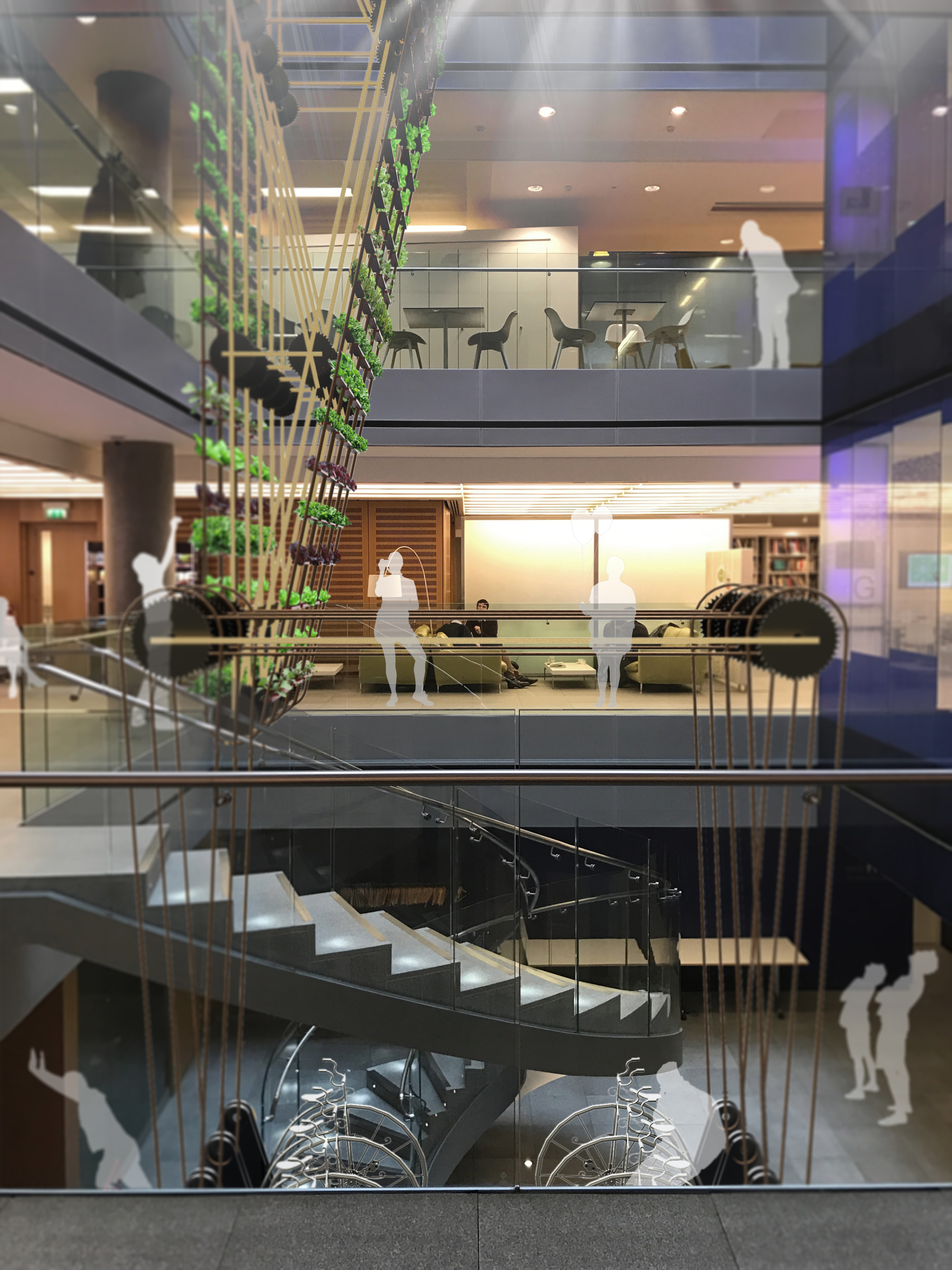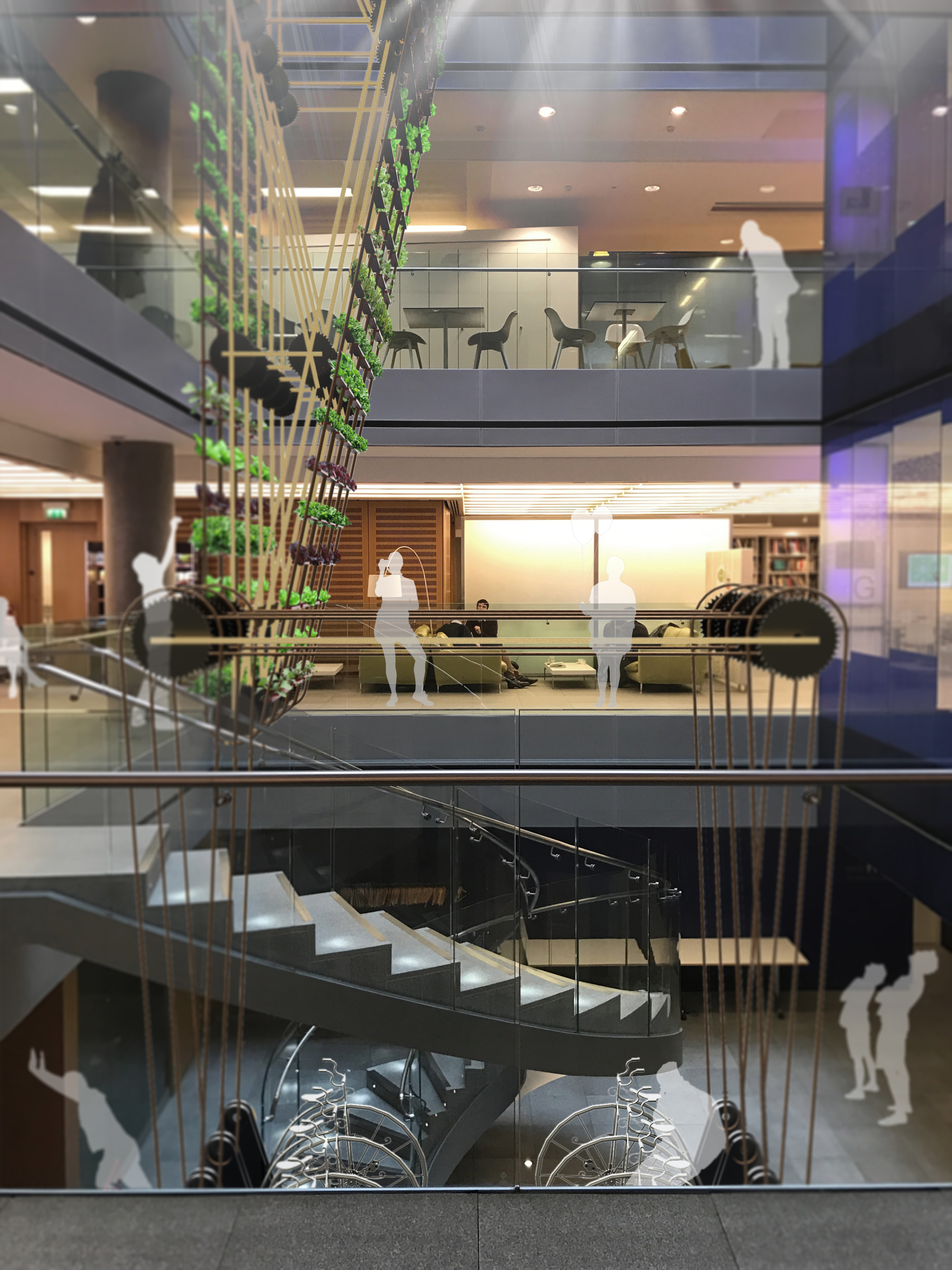 ARUP London
Start: 03/2017 Gross area: 500 sqm
Invited Competition
J Foster Architects in collaboration with Nicholas Kirk Architects was shortlisted for an invited competition for ARUP Buildings London entitled No.8@Arup 2017. We presented to a jury panel consisting of each building discipline, including Chris Carroll (Director of Structure) and Nigel Tonks (Group Leader). Our entry 'Crop Cycle' was a pedal-powered vertical-farm embracing the theme of the circular economy and provided an alternative gustatory and olfactic approach to the brief.
CROP CYCLE will transform ARUP's atrium space at no. 8 Fitzroy Street into a greenhouse, providing a fresh, nutritious and sustainable food-supply for the entire office. It is an interactive, vertical farm which allows staff to cultivate and produce their own food and aims to promote wellbeing.
CROP CYCLE is an assembly of cogs, gears and pulleys that gently whirs away in the atrium. Trays of freshly grown microgreens are transported vertically through the space to level 5 to provide an even exposure of sunlight. Rainwater from the roof is used to irrigate the seedlings at basement level. Fresh produce is available for staff to eat in the cafe, create salad boxes to take home or offer to the wider community.
CROP CYCLE is powered by a motor linked to a bank of cycles in the basement. Staff are encouraged to meet or relax whilst driving the machine or charging the back-up batteries. The process has been inspired by the overarching theme of 'making' and how surplus energy can be harnessed for wider positive outcomes.
CROP CYCLE examines development patterns and densities in the urban environment, and offers an alternative to cultivating resources on the periphery of cities, thereby reducing food miles, and the carbon footprint of production.
CROP CYCLE aims to:
• Evoke delight with lettuce, garlic chives and mustard grass.
• Elicit joy with a spectacular mechanism, an organic process and a tangible (and edible) output.
• Promote interactive engagement for Arup staff using a cycle-based meeting / breakout space to generate power and motion.
• Encourage social interaction with communal harvesting of microgreens and consumption of these in the cafe.
• Integrate with the existing architecture by suspending from the cleaning gantry, supporting at basement level, and creating a visual connection to the cafe.
• Explore the Circular Economy in the Built Environment by identifying urban voids as opportunities for vertical farming of microgreens. Solar energy, water and kinetic energy is provided by the building and its occupants.
APPROACHED SPONSORS
• Growing Underground
• Electric Pedals
• Waitrose / Tesco / Sainsbury / Coop
• Rapha
• Defra
• Look Mum No Hands
• Bikeworks
• Tubeclamps Direct